In computer science, artificial intelligence, sometimes called machine intelligence, is intelligence demonstrated by machines, in contrast to the natural intelligence displayed by humans. I am presenting this new 4AMP AI IPC (Internet Protocol Camera).
WHAT'S NEW? PERIMETER PROTECTION
Utilizing advanced tripwire, the Analytics+ technology allows you to monitor a defined area or line for tripwire or intrusion violations. Tripwire alarms are able to distinguish between humans and vehicles, allowing specific monitoring criteria to be set-up. False alarms that would normally be caused due to animals, weather, tree, or light are reduced. This advanced technology helps increase efficiency for video surveillance.
AI DETECTION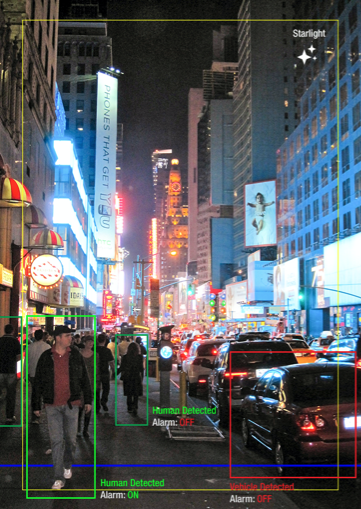 The AI Detection (Smart Motion Detection) improves alarm accuracy through a deep-learning algorithm, reducing false alarms. It Analyzes people and vehicles based on motion detection and sends an alarm only when a person or vehicle is detected in the scene.
NEW HARDWARE FEATURE UPGRADE
Upgrade to 4MP @30 fps, support 256Gb on board SD card, built-in mic, audio cable terminal, alarm input/output.
STARLIGHT
Good low-light performance for applications down to 0.01 – 0.05 lux.